2628 Fire Road, #102Atlantic City New Jersey 08234United States
NJ Injury Guys Atlantic City - Personal Injury attorney
The NJ Injury Guys Egg Harbor Township, NJ law office is staffed by experienced personal injury lawyers who work hard for our clients to get justice and compensation for their injuries. Our local injury lawyers handle many types of lawsuits including dog bites, car accidents and slip and falls, birth injuries, medical malpractice and other personal injuries. Our law firm established the Egg Harbor Township location to serve clients in: Atlantic City, Egg Harbor Township, Middle Township, Wildwood, Ocean City, Galloway. Get a free consultation today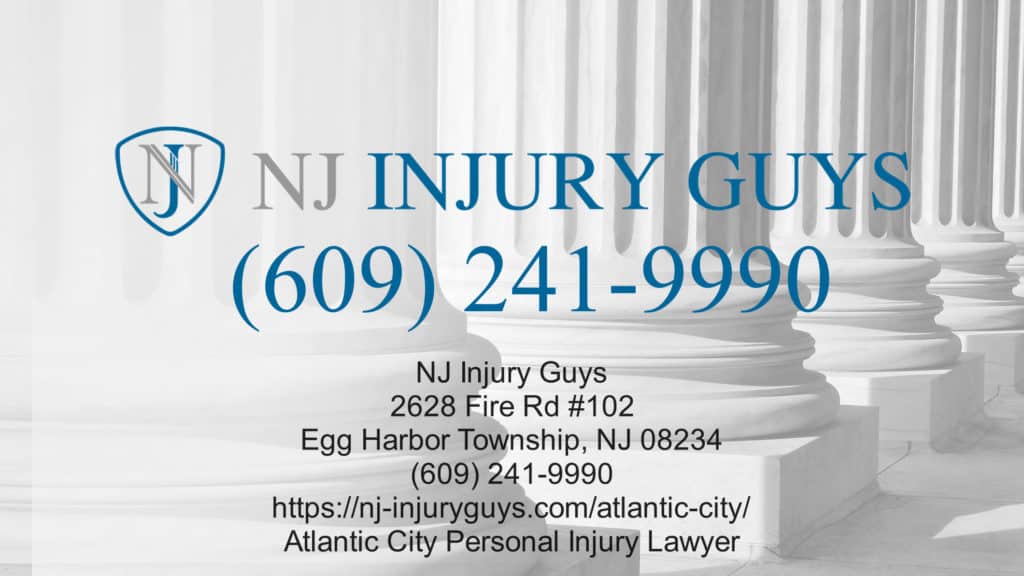 About Atlantic City
Atlantic City, sometimes referred to by its initials A.C., is a coastal resort city in Atlantic County, in the U.S. state of New Jersey. The city is known for its casinos, boardwalk, and beaches. Atlantic City inspired the U.S. version of the board game Monopoly, which uses various Atlantic City street names and destinations in the game. Since 1921, Atlantic City has been the home of the Miss America pageant. In 1976, New Jersey voters legalized casino gambling in Atlantic City, and the first casino opened in 1978.
Things to do in Atlantic City, New Jersey
Directions
Absecon Lighthouse
African American Heritage Museum of Southern New Jersey
Atlantic City
Atlantic City Aquarium
Atlantic City Beach
Atlantic City Beach
Atlantic City Board Walk
Atlantic City Boardwalk
Atlantic City Boardwalk And Beach
Atlantic City Convention Center
Atlantic City Cruises Inc
Atlantic City Historical Museum
Atlantic City Miniature Golf
Atlantic City Parasail
Atlantic City Shore line
Follow Us On
Motorcycle Accident injury case Atlantic City, NJ
The work Gabriel and his team did for me on my motorcycle accident injury case was outstanding. Sincerely speaking, I was a little reluctant when looking for a lawyer online, but I am so happy that I chose NJ Injury Guys. Throughout the entire process, everyone was exceedingly flexible and considerate. They were also successful in getting me the highest amount available! These guys come highly recommended in the Egg Harbor Township area!
Choosing Gabriel and his legal team to be our lawyers was the best decision we
Wow is all I have to say. My husband and I were able to get an update on the status of his case from Gabriel at NJ Injury Guys very quickly. It was great knowing we were in such reliable hands during such a stressful time in our lifes. The people at this law office did an excellent job! Highly recommended team of lawyers in Atlantic City!